Student Pharmacists Diversity Council addresses transgender awareness with pronoun pin sale
Submitted by WSU Applebaum Student Pharmacists Diversity Council
Each year from November 13-19, people and organizations around the country participate in Transgender Awareness Week to help raise the visibility of transgender people and address issues members of the community face.
According to a 2021 Gallup poll, 68% of Americans believe they have never personally met anyone who is transgender. That means the majority of the public's education and awareness about transgender people has been informed by more than a century's worth of media that has overwhelmingly misrepresented and mischaracterized who trans people are - significantly influencing public perceptions, policy and attitudes about the trans community.
As the visibility of transgender people has become more authentic, and as more people have been able to share that they are transgender, younger people are more likely to have transgender friends and family members, so it is important to have resources with accurate, helpful information to support transgender people. This includes supporting transgender patients in a clinical setting.
Many obstacles prevent young transgender people from getting the health care they need, according to a recent study in JAMA Pediatrics, an American Medical Association publication. These include stigma and discrimination from the health care system as well as legal, economic and social obstacles to obtaining gender-affirming care.
As part of addressing these issues, the Wayne State University Student Pharmacists Diversity Council (SPDC) organized a pronoun pin sale. Part of the proceeds from this initiative will go to support Affirmations, a community center in Ferndale that has provided resources and a welcoming space to southeast Michigan's LGBTQ+ communities for 30 years.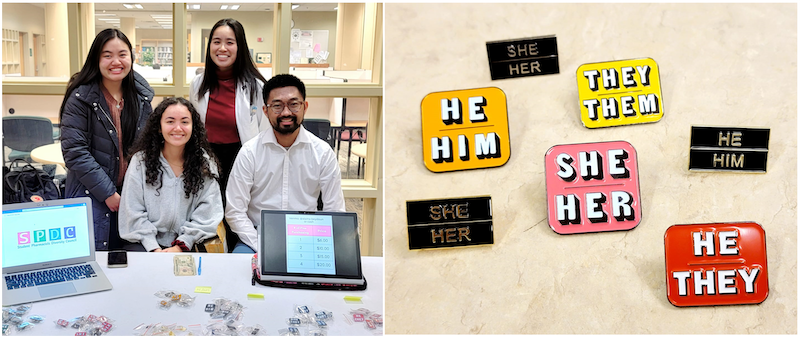 "SPDC is proud to support Affirmations as well as help educate our medical community about the importance of pronoun usage and addressing the unique needs of transgender patients," said Johnie L. Bailey, SPDC co-director of cultural education. "When we use pronouns such as he, she, his, hers, they or their to address others or ourselves, we're contributing to a person's identity. Pronouns are a way in which we categorize those around us, but most of us don't stop to consider what happens when our identity clashes with how others identify with us. Something as simple as affirmation of a person's identity can lead to better health outcomes for patients."
Most transgender people have either experienced discrimination in a health care setting, know someone who has, or have heard stories of people who have. Transgender people frequently don't receive appropriate medical care due to a combination of undereducated providers, insurance coverage denials, discrimination and fear of discrimination. This can cause several significant issues, such as physicians misdiagnosing or outright not treating ailments suffered by transgender people, insurance companies not covering treatment, or transgender people delaying or avoiding necessary health care, often to the point of putting their overall health at risk due to the above situations.
"It is especially important for clinics and other medical practices to be welcoming to transgender people so that they can get the health care they need. According to research by the Trevor Project, affirming environments are associated with reduced suicide risk among LGBTQ youth, including those who are transgender and nonbinary," added SPDC Historian Joseph Paul Javier. "Addressing patients with their preferred pronouns and creating an inclusive health care practice setting helps transgender people feel more comfortable."
"I joined SPDC because its mission to promote and raise awareness for diversity in the health care field aligned with my own goals, especially as a person of color. I knew this would be the perfect student organization that would allow me to work on personal and professional goals throughout my pharmacy school journey," said SPDC Vice President Lauren Danelle Lim. "Our organization's pronoun pin initiative is one way of addressing health care disparities that transgender patients often encounter. Aside from being a good conversation starter with patients, colleagues and other health care professionals, these pins help in raising awareness about gender identity in the field. Creating an inclusive environment is one of SPDC's mission points, and wearing these pronoun pins on our white coats or on personal items helps promote acceptance and creates an inclusive practice where patients can be comfortable expressing their identities."
To purchase SPDC's pronoun pins or become a member of the organization, please contact Lauren Danielle Lim at gi8122@wayne.edu.
---
About us
The Doctor of Pharmacy program at Wayne State University is a four-year curriculum in the heart of Detroit. Approximately 100 students are enrolled in each year of the program. WSU Applebaum information meetings for prospective students take place at 6 p.m. on the first Tuesday of each month. The application process for the Doctor of Pharmacy program begins each July.
An anchor in urban health care
The Eugene Applebaum College of Pharmacy and Health Sciences is built on more than 100 years of tradition and innovation in the heart of Detroit. We have grown deep roots in our city, harnessing its powerhouse hospital systems and community service organizations as vibrant, real-world training grounds for students, with an ongoing focus on social justice in health care. And our research at all levels - from undergraduates to veteran faculty members - translates into creative solutions for healthier communities.
Wayne State University is a premier urban research institution offering approximately 350 academic programs through 13 schools and colleges to more than 25,000 students.