Eugene Applebaum
A community and entrepreneurial leader  and always a Detroiter
Eugene Applebaum was a beloved community leader, mentor, entrepreneur, and philanthropist. A lifelong resident of Detroit, Applebaum was born in 1936, son to European immigrants Minnie and Joseph Applebaum. Instilled at a young age with the importance of hard work and responsibility, Eugene started working at age 12 as the fountain and stock boy at the old Fox Drugs at Broadstreet and Elmhurst. 
By the age of 27, Eugene had opened his own drugstore, and at age 62 he sold the chain of over 200 Arbor Drugs businesses he had built to CVS. Then, with the opportunity to continue his philanthropy full-time, Eugene dedicated his efforts to strengthening Detroit with his alma mater, Wayne State University, as a pivotal focus.
Read about Eugene's lifetime of making a difference through our collection of key archives and photographs.
During his student experiences at Wayne State University, Eugene's leadership and entrepreneurial acumen advanced. He graduated in 1960 with a bachelor of science in pharmacy (today a PharmD degree program) and immediately went into the pharmacy business.
An iconic businessman
After graduating from Wayne State University, Eugene went to work as a pharmacist for Sam Pearlstein at Merrill Drugs, putting his education to practice and being in the pharmacy industry.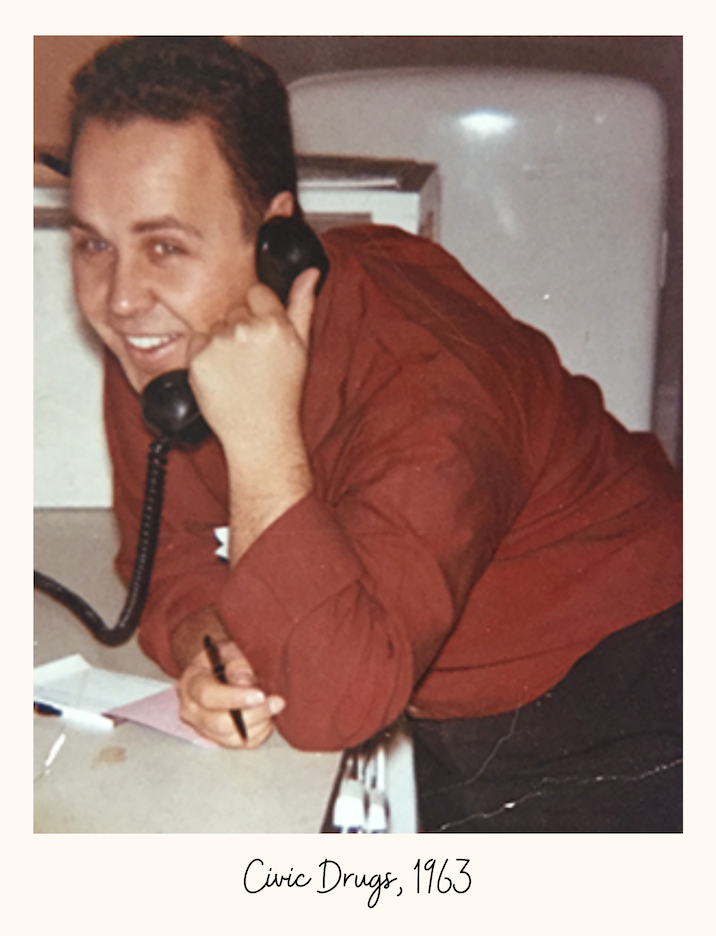 Eugene opened his first drug store, Civic Drugs, in Dearborn in 1963. In 1974, he brought together six existing drugstores, including Civic Drugs, to form Arbor Drugs.
As the founder and CEO of Arbor Drugs Inc., Eugene propelled it to be the eighth largest drug store chain in the U.S. with 208 stores, generating $1 billion in annual sales and a 45 percent market share in metro Detroit.
1998, after 35 years in business, Eugene sold Arbor Drugs to CVS and formed Arbor Investments Group (now Applebaum Ventures) to focus his efforts full time on philanthropy and family investments.
A passion for giving back to Detroit
Starting at a very young age, and throughout his life, Eugene had a passion for giving back and helping to lead the community that supported him.
As a child, he attended Fresh Air Summer Camp in Michigan on scholarship. Since his parents could not afford the fees, a generous benefactor allowed Eugene to attend for $3 per week vs. the typical cost of $21. This experience had a profound impact on young Eugene, shaping his commitment to philanthropy, helping others and his community. You can learn more about Eugene's vast philanthropic efforts here.
A lifelong commitment to Wayne State University
Eugene firmly believed that Detroit's strength pivoted on the vitality of its urban university center Wayne State. Detroit's positive future was inextricably linked to Wayne State. Eugene demonstrated this commitment through his leadership and generous philanthropy.
Eugene was passionate about the rebirth in Detroit and developing health care education for future generations in Detroit. In 1998, Eugene gave a gift of $5 million to begin construction of a new home for Wayne State's College of Pharmacy and Allied Health Professions. At that time, the gift was the largest contribution in the university's history and served as a catalyst for others to emulate.
The honorary doctor of laws degree was presented to Eugene on behalf of the Board of Governors to recognize his outstanding contribution to the economic and philanthropic strength of Wayne State and the Detroit community.
In addition to his lead gift to help build what is now the Eugene Applebaum College of Pharmacy and Health Sciences, Eugene led the overall capital campaign to provide top-quality, state-of-the-art educational experiences for students and research opportunities for faculty and scientists. This included $11.1 million in private funding from Eugene's friends and associates and $48 million in state funding.
Eugene led with the intention of inspiring others, working to move Wayne State as an important philanthropic center. He served as the inaugural chair of the Wayne State Foundation and the Wayne First Campaign, the university's first-ever comprehensive fundraising effort, helping to raise more than $1.1 billion and coalesce key community leaders to its ranks.
In September 2001, the Board of Governors named the Wayne State University Eugene Applebaum College of Pharmacy and Health Sciences  (WSU Applebaum) in honor of his philanthropic work. Today, the school that started Eugene on his path to success enrolls a thousand students each year in  more than a dozen bachelor's, master's, doctoral and professional degree programs.
In 2007, Eugene established the Eugene Applebaum Chair in Community Engagement in honor of his friend and retiring WSU president Dr. Irvin D. Reid. The Applebaum Chair was a catalyst for cooperation between the university and community organizations and launched programs such as the  Forum on Contemporary Issues in Society (FOCIS) lecture series, African Democracy Project and CitizenDetroit.
In 2018, Eugene was an honorary chair of Wayne State's Sesquicentennial 150-year anniversary. The final celebration included a video tribute to Eugene recognizing his remarkable impact on the Wayne State community.
An enduring impact
As a leader and philanthropist, Eugene Applebaum wanted to ensure that future generations would receive the best education and good jobs in a vibrant metropolitan Detroit community. His family now carries on this mission and legacy by continuing to impact students at WSU Applebaum and across Wayne State University each day.
An annual program offered to four aspiring WSU Applebaum PharmD students who embody an entrepreneurial spirit and passion to advance community ambulatory pharmacy practice in Detroit. The program provides leadership development and education to prepare students to serve as the next generation of leaders in community pharmacy.
Along with Eugene's gift to name the pharmacy and health sciences college, a generous contribution of an important contemporary art collection was made. This art collection was recently refurbished and cataloged. It is now on permanent display in the building and will soon be featured online.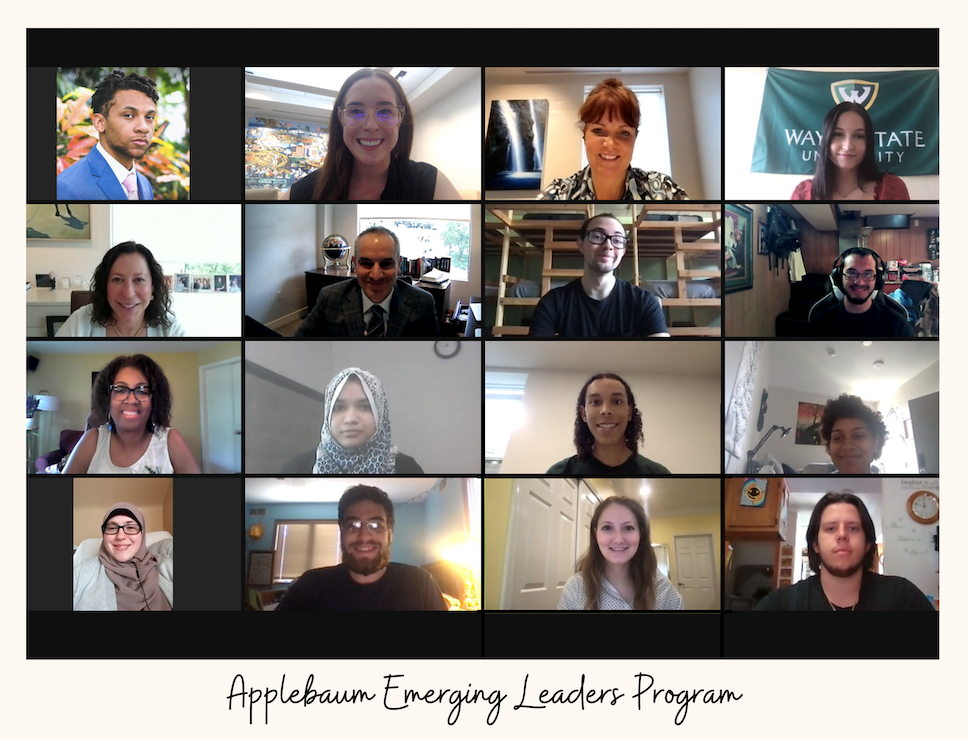 An annual program focused on intensive skill development for 10 selected students in WSU's Irvin D. Reid Honors College. The program aims to enhance entrepreneurism, professional acumen and networking with the goal of advancing the next generation of leaders from Wayne State.
An annual partnership with WSU's College of Fine, Performing and Communication Arts providing six internship experiences at the Detroit Symphony Orchestra. The program offers hands-on, practical experience in the musical cultural arts for Wayne State students.
A CONTINUED LEGACY
Eugene's legacy continues to impact individuals and communities within priority areas of education, health and medical research, arts and culture, and the Jewish community across Southeast Michigan, the United States, and select organizations in Israel.
You can learn more about Eugene's life, legacy and impact through the Eugene Applebaum Legacy website.